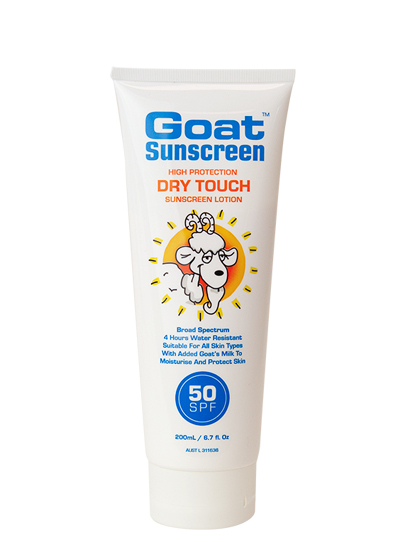 Goat Sunscreen Dry Touch 200ml
General Information
High protection sunscreen lotion that is sweat and water resistant for 4 hours. Can aid in the prevention of premature aging of skin exposed to the sun, and may assist in the prevention of some skin cancers. With added Goat's milk to help keep your skin moisturised and protected.
Warnings
Avoid contact with eyes and clothing. Do not use on broken, damaged or diseased skin. If irritation develops, discontinue use. Store below 30C. May stain clothing.
Common Uses
High protection 50 SPF dry touch Sunscreen Lotion. 4 hours water resistant, suitable for all skin types. With added Goat's Milk to moisturise and protect skin.
Ingredients
ACTIVE INGREDIENTS: Octocrylene 100mg/g; 4-Methylbenzylidene Camphor 40 mg/g; Butyl Methoxydibenzoylmethane 40mg/g; Phenylbenzimidazole Sulfonic Acid 40mg/g
Directions
Apply liberally and evenly to all unprotected areas of the skin 20 minutes prior to sun exposure. Re-apply every 2 hours, especially after exercise, perspiration, swimming and towel drying. Always wear protective clothing, hats and eyewear when exposed to the sun and avoid prolonged exposure to the sun. On an average sized adult, a minimum of 35mL should be applied. This is the equivalent of 1 teaspoon of sunscreen to each arm, leg, front of body, back of body and face (including neck and ears).